Description
Quantitative self-testing of calprotectin for IBD monitoring at home
Preventis SmarTest Calprotectin Home test is a quantitative home test system for the determination of calprotectin in stool samples. This in vitro diagnostic device (IVD) is intended for self-testing and individual monitoring of disease activity and treatment efficacy for patients with chronic inflammatory bowel disease (IBD). SmarTest Calprotectin consists of a rapid lateral flow test that detects human calprotectin via gold-conjugated anti-calprotectin antibodies, and a smartphone app that analyses the result quantitatively based on the intensity of the control and test lines. Results are automatically sent to the patient's doctor and logged in the Doctor's Online Portal for their IBD team to remotely monitor.
In addition to measuring the concentration of calprotectin in a stool sample, the app also includes a clinically validated disease activity questionnaire for Monitoring IBD at Home (MIAH), enabling patients and IBD teams to view a fuller picture of Crohn's disease or ulcerative colitis. The MIAH questionnaire results are reported as a disease activity score that correlates with endoscopically-determined disease activity, enabling swift therapeutic intervention and patient initiated follow up (PIFU).
How SmarTest Calprotectin Home works​
1. Access the online portal and set up a Competence Centre
IBD teams can set up their own Competence Centre within the portal free of charge, which forms the central point for user and patient management, data collection and viewing results.
2. Register patients
Patients are enrolled in the Competence Centre at which point an invitation letter containing a patient-specific QR code is automatically generated. Patients connect their SmarTest Calprotectin app to their IBD team's Competence Centre by scanning their QR code using the SmarTest Calprotectin app.
3. Monitor your patients
Once a patient is enrolled in the SmarTest Calprotectin programme, every result they generate from the SmarTest Calprotectin test will automatically be dispatched from their smartphone to the Competence Centre where the results are logged for monitoring.
SmarTest Calprotectin Home test
Measuring range 31-4,000 µg/g
Pocket-sized individual test kits
Room temperature storage
Test time just 20 minutes (approx.)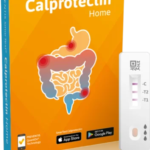 SmarTest Calprotectin Home app
Free to download and use
Fully animated and assistive instructions
Includes validated disease activity questionnaire
Automatic timing and scanning of test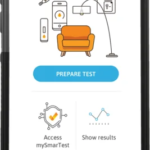 Compatible devices list (05/07/2022)
SmarTest online portal
Free access and set-up
Automatically captures inbound results and notifies users
View individual results over time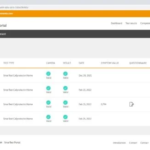 Enables close monitoring of inflammatory bowel disease activity

Improves productivity, optimises clinic capacity and human resources

Convenient for patient use for IBD monitoring, improving compliance and patient retention

Fast sample preparation (~20 minutes) and test time enables individuals to continue with their daily routine

Discreet packaging allows the test to be taken anywhere, no refrigeration required

Supports patient initiated follow up and remote intervention with automatic transmission of results to the Doctor's Online Portal